⭐⭐⭐⭐⭐ (116)
Shiitake mushrooms contain eritadenine, a compound known to reduce cholesterol levels in the blood. They also contain beta-glucans that reduce inflammation and help prevent the intestines from absorbing cholesterol. Shiitake are rich in polysaccharides like lentinans and other beta-glucans. These compounds protect against cell damage, help your immune system, and boost white blood cell production for fighting off microbes. Polysaccharides also have anti-inflammatory properties.
✓ Highest quality supplements manufactured to top EU standards
✓ Free from traces of allergens
Regular price
£17.49
Sale price
£13.99
Save £3.50 in Today's Sale!
Unit price
per
£3.50 Coupon applied!
Sold out
Low UK stock, Next Day Delivery Available
Same day dispatch from the UK Warehouse (up to 1pm Mon-Fri). Now also shipping to the EU and North America.
No quibble 90 day FREE returns
UK's largest stock of Aliness products in our Oxfordshire warehouse. We deliver the products faster than anybody else. Buy with confidence that you won't pay any duty or extra import tax.
View full details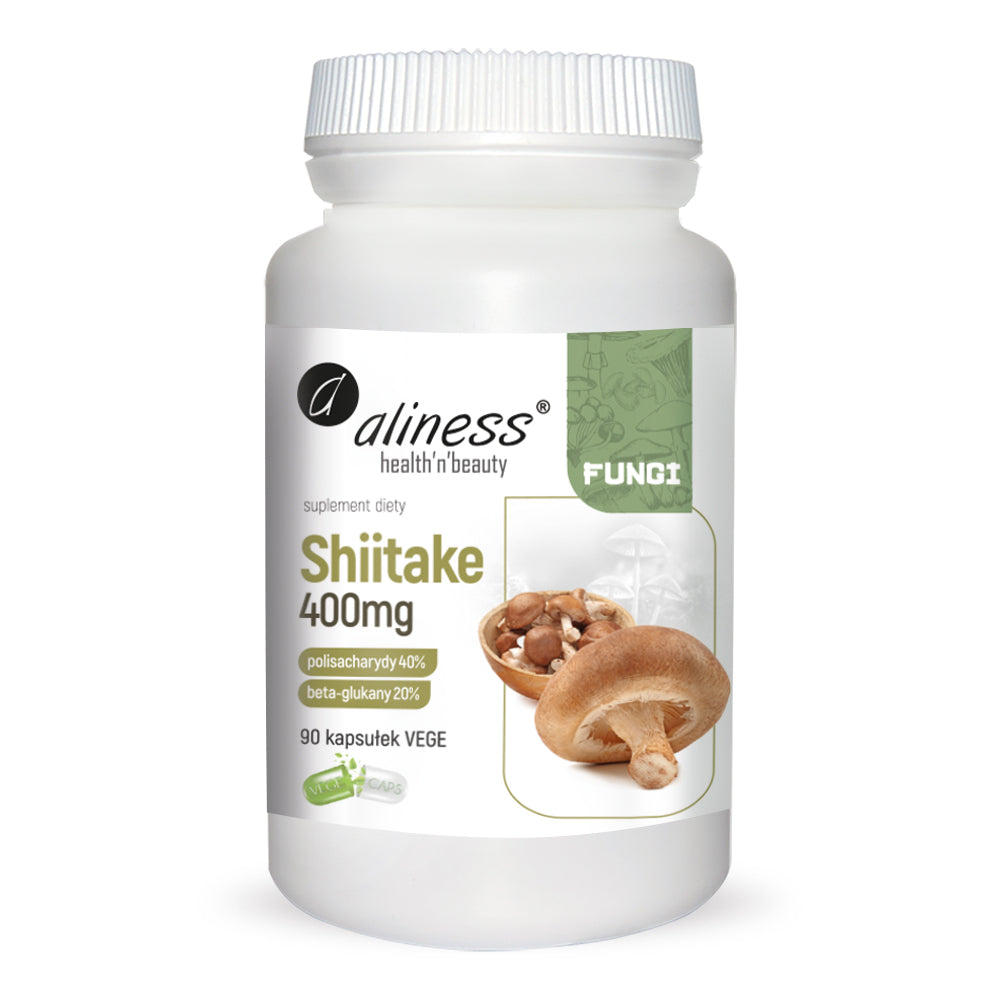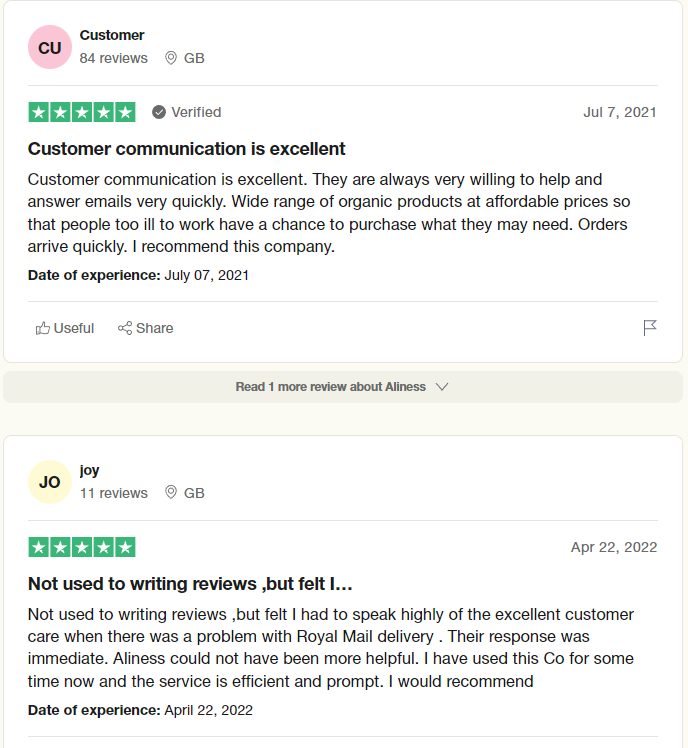 Join Our 25,000 Happy Customers
Rated Excellent 4.8/5 on TrustPilot.
⭐⭐⭐⭐⭐
"I love Aliness products. Very high quality. I'm working as a personal trainer and when I write diet and supplementation plans for my clients, I base them on Aliness supplements. I know it works, as I have blood tests results. Top quality. Thank you. "
- Agata
Description
Shiitake extract
Food supplement
90 vegan capsules 

Polysaccharides 40%


Beta-glucans 20%

Vegan

Gluten Free

Lactose Free

Soy Free

GMO Free
High-quality extract from Shiitake fruiting bodies (Lentinula edodes), standardized for polysaccharides and beta-glucans
| | |
| --- | --- |
| Ingredients | 1 capsule |
| Shiitake mushroom extract (Lentinula edodes) | 400mg |
| including  | |
| polysaccharides | 160mg |
| beta-glucans | 80mg |
Ingredients: standardized extract from Shiitake mushroom (Lentinula edodes), capsule shell: (binder: hydroxypropyl methylcellulose)
Recommended daily intake: 1 capsule with water. Do not exceed recommended servings for consumption during the day.
The product cannot be used as a substitute for a varied diet.
It is recommended to follow a varied diet and a healthy lifestyle.
Package contents: 90 vegan capsules. 
Storage conditions: Store at room temperature, out of reach of small children. Protect against moisture. 
What is Shiitake?
Shiitake, or Japanese curd (Lentinula edodes), is a species of mushroom related to our native mushroom. True to its botanical name, it comes from Southeast Asia and occurs naturally in countries such as Japan, China, Vietnam and Korea. On the other hand, the common name of Shiitake is a combination of two Japanese words (Shii - meaning "beech" (tree) and Take - meaning "mushroom" and refers to the conditions in which the mushroom grows. The shiitake grows most often on rotting beech trunks. 
Although the name Shiitake in common circulation comes from Japan, with which it is now associated, the tradition of growing and using this mushroom is actually associated with China, where it was used in antiquity, e.g. in traditional folk medicine.
Shiitake mushrooms, associated by many people mainly as an addition to Asian cuisine, also have a much wider, health-promoting application which are especially beneficial to health beta-glucans. They also contain other valuable ingredients - B vitamins, vitamin D (ergocalciferol) and numerous minerals - micro- and macro elements.
Beta-glucans and polysaccharides
Polysaccharides are a vast group of chemical compounds with long, chain molecules, composed of repeating sugar units. Due to their structure, polysaccharides can therefore be seen as biopolymers that occur naturally in plant and animal organisms. Polysaccharides include starch, cellulose, glycogen and chitin. Individual polysaccharides have different properties and thus also play different functions, depending on the way in which the monomeric sugar units are linked and also depending on their type.
There is another subgroup of polysaccharides that is characteristic of fungi - beta-glucans. Beta-glucans are part of the fungal cell walls, being one of the main structural elements of their fruiting bodies. 
Beta-glucans are structurally different from other polysaccharides known to us from everyday life, such as starch and cellulose. These differences in structure have a direct impact on their properties - thanks to them, beta-glucans are, for example, a valuable component of dietary fibre, and also show other forms of biological activity - they affect, among others to lower the level of "bad" LDL cholesterol.
What distinguishes our extract? / Double standardization
When selecting supplements, it is worth checking what the extract is standardized for. Although many products are based on extracts with high standardization, they usually only refer to the total polysaccharide content. However, there is no information about the content of beta-glucans, while they are the most important fraction of polysaccharides, which is characterized by health-promoting properties. 
The mere information about the total content of polysaccharides does not prejudge the high quality of the extract, even when it is 40%, 50% or more percent. Most of them may be useless varieties of starch (i.e. alpha-glucans) or, additionally, the content of polysaccharides may be artificially increased due to the presence of maltodextrin, which is also biologically neutral polysaccharide and is sometimes added as a carrier stabilizing the extract.
Aliness Shiitake is based on the high-quality, double-standardized extract of Lentinula edodes, which guarantees the content of active ingredients at the level of at least 40% of all naturally occurring polysaccharides and 20% of beta-glucans. The high content of beta-glucans ensures the effectiveness and full spectrum of the extract's activity.
Aliness Shiitake does not contain any animal ingredients, making it a product suitable for vegans. The product does not contain any artificial technological additives, preservatives or dyes.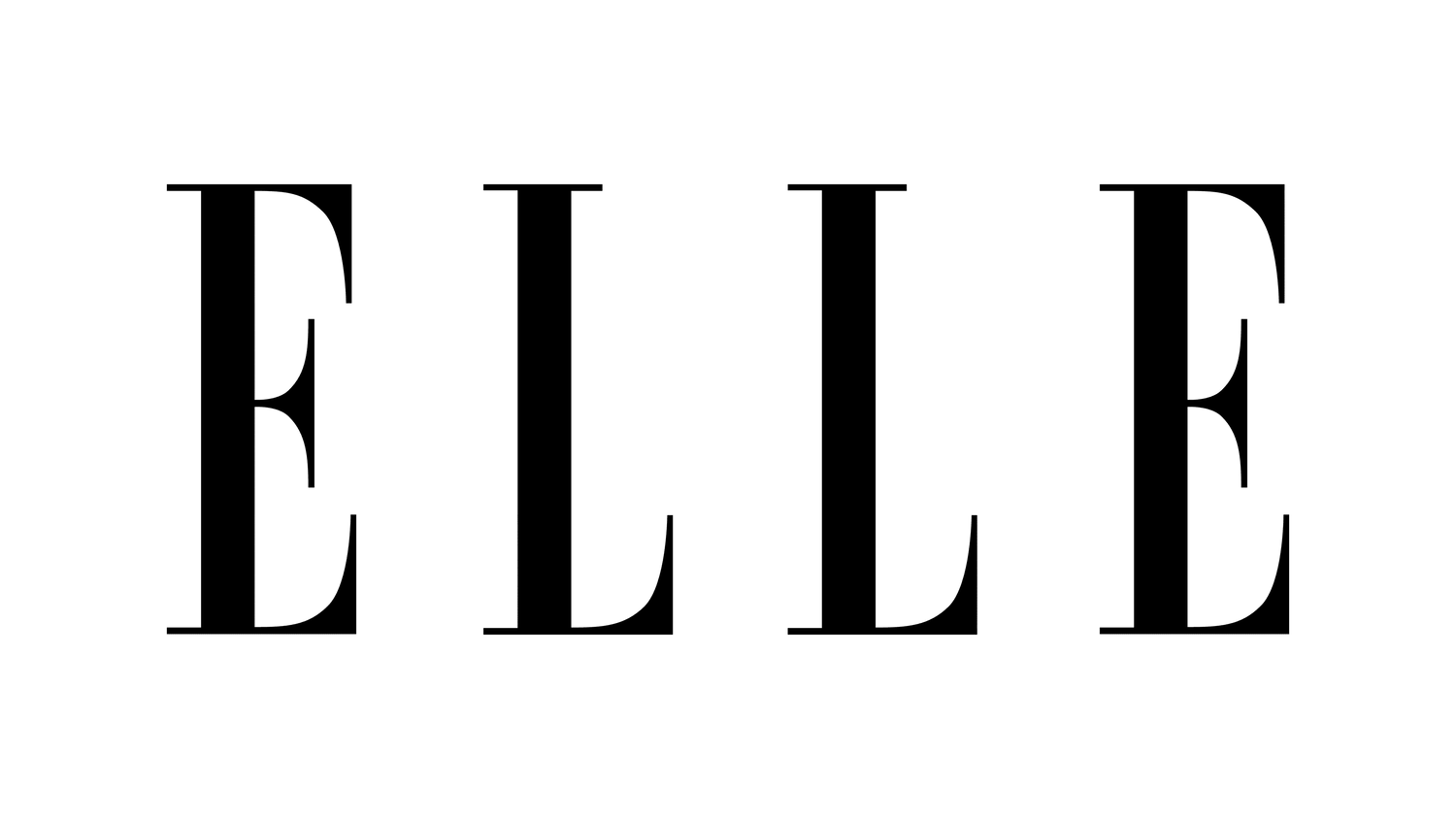 "The strong point of Aliness products is the best quality raw materials, which is why it is a market leader in many product lines."
Elle Magazine, December 2022